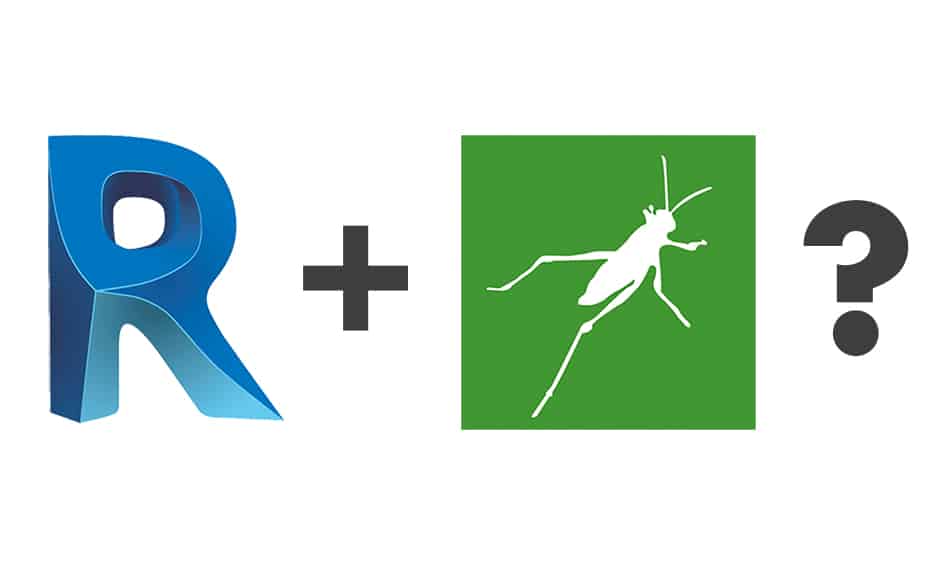 Grasshopper is an essential tool for some architects and designers, but integrating this into a Revit workflow has often been time-consuming and frustrating. Surely there must be a better way? 
It is possible to use Grasshopper with Revit by using the program 'Rhino.Inside.Revit.' This allows a user to run Rhino & Grasshopper from within the Revit application. Revit can then be directly controlled with Grasshopper definitions.
This tool is likely to revolutionize the workflow of those who frequently use Revit, Rhino, and Grasshopper in tandem. In the following post, we will show you how to install Rhino.Inside.Revit and show you some of the features which are available exclusively when running Grasshopper in this way.
What is Rhino.Inside?
Rhino.Inside® is an addon that allows Rhino and Grasshopper to run inside other applications such as Revit, AutoCAD, and Unity. 
When installed, Rhino.Inside allows Grasshopper definitions to drive the host application in real-time. Before this, users would have to bake and export their Grasshopper projects before importing them into another application. 
Rhino.Inside is an open-source project meaning the source code is freely available to the public to modify. 
There are currently projects working on Rhino.Inside for Adobe Illustrator, Microsoft Excel, Unreal Engine, and many more. A full list of these host applications can be found here: https://github.com/mcneel/rhino.inside
It is important to note that Rhino.Inside is only available for Windows.
How To Set Up Rhino.Inside.Revit.
Rhino.Inside.Revit is a free application, but you need to have Revit (2018 or later) and Rhino 7 for this to work. If you don't have Rhino 7, you can use it for free for 90 days. This can be downloaded from the same page as Rhino.Inside.Revit.
Head to https://www.rhino3d.com/inside/revit and click 'Download Rhino.Inside. Revit'
Install Rhino.Inside.Revit on your PC.
Open Revit
When you open Revit, you will be prompted to load Rhino.Inside.Revit – click 'Yes'
Select the Add-Ins toolbar at the top of Revit and click the Rhino button.
This will load the Rhino toolbar. From here, you can open Rhino and Grasshopper within the Revit application.
New Grasshopper Features for Rhino.Inside.Revit
When you open Rhino within the Revit application, it will run as if it was running independently. There are no additional commands or features.
On the other hand, Grasshopper is aware that it is running within Revit and presents a series of new toolbars specifically for this purpose.
There is a new toolbar in the 'Params' section for functions that are Revit-aware. This includes graphical elements, walls, floors, families, etc.
There is also a dedicated Revit toolbar at the top of your Grasshopper workspace. This is where you can find all of the Revit-aware components inside Grasshopper.
A comprehensive list of all of these new components, with a description of their function, can be found here.
Is Grasshopper Better Than Dynamo?
Before Grasshopper was available to run in Revit (thanks to Rhino.Inside), the only option for Revit users was to use Dynamo. Grasshopper and Dynamo are very similar in the way they work, but which is better?
Grasshopper is much faster, less buggy, and more user friendly than Dynamo. Grasshopper has a significantly larger community than Dynamo, meaning there is better support if you run into problems. There is also a larger ecosystem of plugins for Grasshopper. 
It is clear to see why Rhino.Inside was created for Revit. Now let's take a closer look at the differences between Grasshopper and Dynamo.
What is the Difference Between Grasshopper and Dynamo?
Grasshopper and Dynamo are very similar in their function and purpose. They are both node-based visual scripting interfaces.
If you haven't used either of these applications before, that might sound very confusing. To put it simply: Grasshopper and Dynamo allow designers to create complex geometry without needing to know how to program.
The key difference between the two is that Grasshopper works with Rhino, whereas Dynamo works with Revit. 
How Much Do They Cost?
Both applications are free and come as standard with the purchase of Rhino and Revit. It is worth bearing in mind that to run Rhino.Inside.Revit, you need a license for both Rhino and Revit. Fortunately, Rhino is much less expensive and does not require a subscription.
Rhino: around $1000 to buy outright.
Revit: around $2500 per year.
Which Is Faster, Grasshopper or Dynamo?
Grasshopper is really fast and can store thousands of items in its memory. In my experience, you have to really overload it with calculations before you notice it start to slow down.
On the other hand, Dynamo runs much slower, with users reporting problems with freezing and needing to restart the application.
Dynamo may improve, but at this moment in time, Grasshopper is by far the faster application.
Which Has The Best Forums/Community?
The community for Grasshopper is much larger than for Dynamo. As such, you are much more likely to find the answer to your question within the Grasshopper forums. You are also more likely to get a faster response in the Grasshopper forums to any questions that you ask.
Grasshopper has been around since 2007 and has a solid community supporting it. This means that it's straightforward to find the answer if you run into a problem or have a question. If you can't find the answer, there is a great forum where you can ask your questions. I am always amazed at how quickly my questions are answered here.
You can find the Grasshopper forum here.
On the other hand, Dynamo has not been around for as long and is still in development. There is also a community that supports Dynamo if you run into any problems.
The Dynamo forums are also very active, only with a smaller community. You can find the Dynamo forum here.
Which Has The Best Plugins?
Grasshopper and Dynamo both have a wide range of plugins that have been developed by their communities. These plugins expand the functionality of their applications in many ways.
Grasshopper's large community means that there is a better selection of plugins that are well supported.
You can browse plugins for Grasshopper at https://www.food4rhino.com/, where there are currently over 1000 plugins available. Some of there you have to pay for, but the majority are free!
There are a similar amount of plugins available for Dynamo, which you can find at https://dynamopackages.com/. Personally, I have found this site to be a bit glitchy sometimes. As the Dynamo community is smaller, these plugins also tend to be less supported.
Do I Need To Know Grasshopper To Use Rhino.Inside.Revit?
It is possible to import and export files between Rhino and Revit. You can find this function in the Rhino toolbar of your Revit application when Rhino.Inside.Revit is installed.
The power of Rhino.Inside.Revit is its ability to create custom Grasshopper definitions that interact with Revit.
Previously, people who used Grasshopper and Revit would have to export/import their model whenever they wanted to transfer between the two software. Now, Rhino.Inside.Revit allows Grasshopper to interact with Revit in real-time.
Suppose you do not use Grasshopper and you are looking for a smoother way to import your Rhino Files into Revit. In that case, the Conveyor plugin may be more suitable. 
What is Conveyor?
Conveyor is a plugin that allows you easily convert Rhino objects into Revit elements. The plugin prides itself on its simplicity, stating that it is suitable for any designer.
You can get a free 15 day trial of Conveyor, but after that, it will cost $550. 
In my opinion, I think it is worth learning the basics of Grasshopper and using simple scripts to import your rhino models into Revit. This will save you money as well as introducing you to the exciting world of Grasshopper.
Final Thoughts
Rhino.Inside.Revit is a really exciting development in the world of architecture as it streamlines the workflow of Rhino to Revit significantly. These are two of the most popular software packages in the architecture world, so linking them in this way is a huge step.
Grasshopper has always been the preferred scripting tool for designers and Rhino.Inside may well make Dynamo redundant in the future.