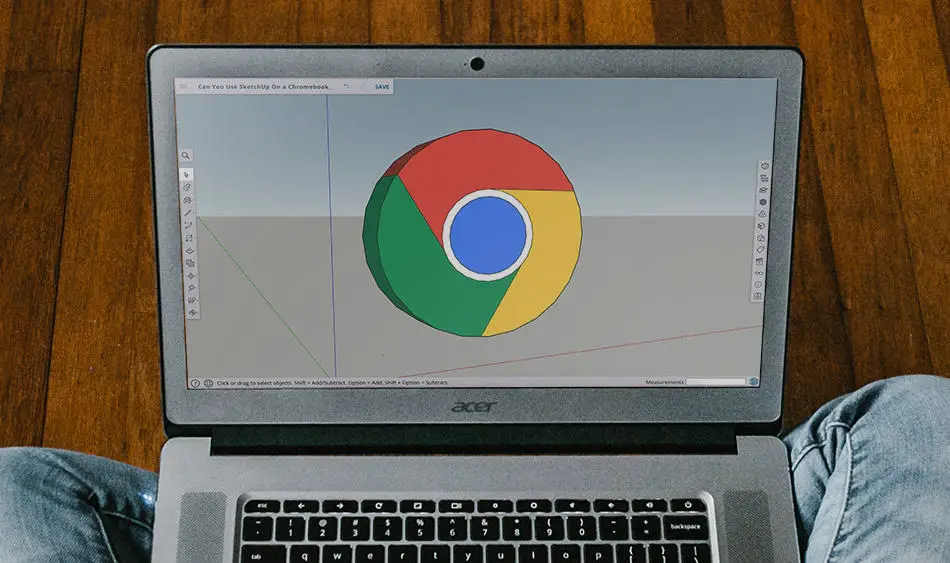 Why spend money on a laptop when a Chromebook is often much less expensive? Can you really use SketchUp on a Chromebook, or is it too good to be true?
It is now possible to use SketchUp on a Chromebook using 'SketchUp for Web' in your internet browser. This allows a user to use SketchUp without the need to download the desktop application. That being said, most Chromebooks' low hardware specification makes conventional laptops more suitable for 3D modeling.
This post shows you how to use SketchUp on a Chromebook and show you the best Chromebook for the job. We will also talk through a Chromebook's limitations for 3D modeling and why buying a laptop is the best option.
What is SketchUp?
SketchUp is a 3D modeling software primarily used by architects and interior designers. 
It is praised for its simplicity and ease of use, making it a great introduction to 3D modeling software. For this reason, it is often the first 3D software people use and is becoming increasingly common in schools.
Despite its simplicity, it is also possible to use SketchUp for complex projects. It is used by professional architecture practices around the world.
SketchUp is unique because it can be used as both a desktop application and within a web browser. This means the software can be used on almost any computer with an internet connection without downloading any software.
What is a Chromebook?
A Chromebook is a type of computer designed to be fast and user friendly. They run the Chrome OS operating system created by Google. 
Chromebooks are a popular entry-level device praised for their simplicity, long battery life, and security.
Chromebooks are linked to your google account. This means you could log in to any Chromebook and quickly access all of your work. 
One of the Chromebooks' significant limitations is that it is only possible to use online applications or Chrome/Android apps. This means that many software applications are unavailable.
Chrome OS is designed to work with lower specification hardware. Therefore, people choose Chromebooks over Windows or Mac systems for their significantly lower price and ease of use.
How To Use SketchUp On A Chromebook
The desktop version of SketchUp is unavailable on Chromebooks, so you need to use SketchUp for Web.
Go to https://www.sketchup.com/products/sketchup-for-web in your Chrome browser.
Log in to your Google account. 
Click 'Create New' and choose which unit you want to work in. 
You're ready to start creating! When you save your file, it is linked to your account to access it when you log in. This means you can use a different Chromebook but still have access to your files.
The free version of SketchUp allows you to save 10GB of files. This will enable you to create lots of models without running low on memory.
What versions of SketchUp are available on Chromebook?
SketchUp Free and SketchUp Shop are both available on Chromebooks as web-based applications. SketchUp Pro is not available.
In the table below, you can see how the 3 versions of SketchUp compare:
| Feature | SketchUp Free | SketchUp Shop | SketchUp Pro |
| --- | --- | --- | --- |
| Price | Free | $199/year | $299/year |
| Commercial Use | No | Yes | Yes |
| 2D Drawings | No | No | Yes |
| Web Version | Yes | Yes | Yes |
| Desktop Version | No | No | Yes |
| Custom Materials | No | Yes | Yes |
| Custom Styles | No | Yes | Yes |
| Custom Sketch Styles | No | No | Yes |
| Solid Tools | No | Yes | Yes |
| Dynamic Components | No | No | Yes |
| Animations | No | No | Yes |
| Offline Use | No | No | Yes |
| No Watermark | No | Yes | Yes |
The Limitations of SketchUp on Chromebook
One major limitation to SketchUp on Chromebook is that it can only be used online. This might not be a problem for everyone, but it will make working on the move much harder.
As mentioned above, SketchUp Pro is not available on Chromebooks.
This isn't the end of the world, but it does limit you if you want to use some of SketchUp's more advanced features.
One of the most valuable elements of SketchUp Pro is LayOut. This allows a user to create documentation from their 3D model, for example, construction drawings.
If you have SketchUp Shop, you can still export your model as a DWG and import this into another software such as AutoCAD to produce your drawings. With the free version, your options are very limited.
It is also not possible to create animations with SketchUp when using a Chromebook.
SketchUp for Web Hardware Requirements
| Minimum Specifications | Recommended Specifications |
| --- | --- |
| 2.1+ GHz Intel processor | 2.8+ GHz Intel processor |
| 4GB RAM | 8GB+ RAM |
| 700MB of available hard-disk space | 1GB+ of available hard-disk space |
| Intel HD integrated graphics card with at least 512MB video memory | Discrete Graphics card such as AMD Radeon R9 M37X 2048 MB |
System Requirements
These are the hardware requirements that SketchUp recommends if you want to use SketchUp for Web. You can read more about what SketchUp recommends here.
It is worth noting that the minimum specifications shown here are high compared to the majority of lower-priced Chromebooks.
The Best Chromebook For SketchUp
Suppose you have a Chromebook with specifications that do not match SketchUps recommendations. In that case, it will still be possible to run SketchUp, but you will be limited to quite basic use. If you plan to create more complex models, you may have difficulties.
A Chromebook is not a substitute for a laptop. Still, if you have your heart set on one, we recommend a system with minimum hardware requirements to run SketchUp.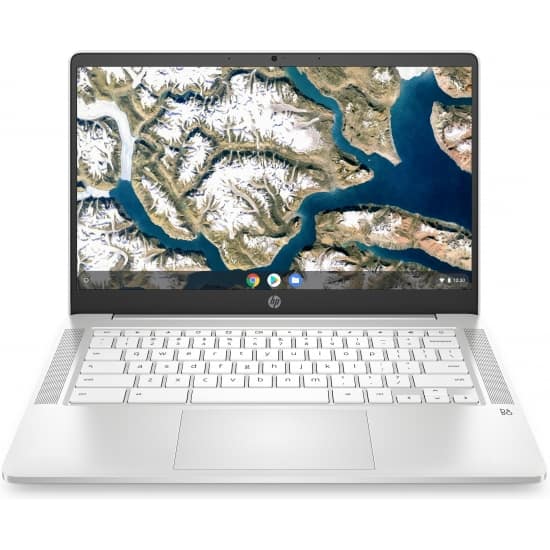 HP Chromebook – 14a-na0097nr
$309
Intel Pentium Silver processor
Intel UHD Graphics 605
4 GB memory
64 GB eMMC storage
14″ diagonal HD display
This system will allow you to use SketchUp. But if you plan to create large and complex models, you will require a higher specification machine.
You might think about buying a more powerful Chromebook with higher specifications. In that case, it will cost more, and if you are willing to spend $500+, you are much better off buying a laptop that runs Windows.
Below you can see our recommendation for a budget laptop that will allow you to run SketchUp and a whole host of other design software. 
If you are serious about using SketchUp, we highly recommend that you choose a laptop over a Chromebook.
Affordable Laptop Alternative to a Chromebook
One of the main reasons that people choose a Chromebook is that they are very affordable. But it is now possible to buy a laptop with a similar or better specification for the same price.
If you want to use SketchUp for Web, a Chromebook will just about be sufficient. However, you are very limited in what other design tools and software you can use.
By spending a small amount more, you will be able to buy a Windows laptop that will allow you to run SketchUp Pro and a whole host of other design tools and software.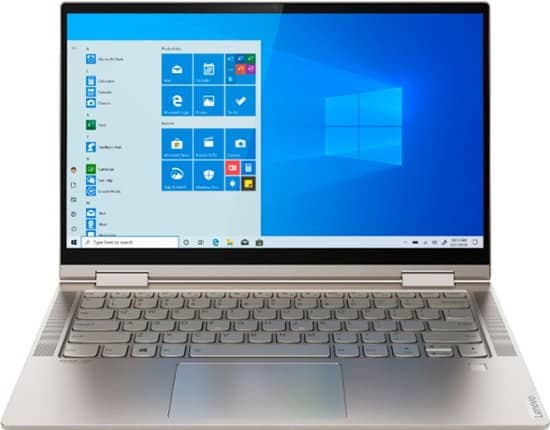 Lenovo – Yoga C740HP Pavilion x360 Convertible 14-dw1098nr
$599.99
Intel Core i5 processor
Integrated Intel UHD Graphics
8 GB memory
256 GB SSD storage
This is significantly more expensive than the Chromebook we previously recommended. Still, with a much faster processor and more RAM, you can do so much more. 
This means you can run much more graphically intense programs, not to mention all of the software that isn't available for Chromebook! SketchUp Pro, Photoshop, Revit – you name it!
Should I Get a Chromebook to use SketchUp?
In short – no. If you are a casual user who wants to do a bit of 3D modeling for fun – a Chromebook will probably meet your expectations.
For all other users, a Windows laptop will be far more superior. You will be able to run a plethora of different design software as well as SketchUp Pro. 
Is A Chromebook Suitable For Architecture School?
A Chromebook is in no way suitable for architecture school as almost all design software that you will need to use is not available on Chrome OS. On top of this, most Chromebooks have relatively low hardware specifications. This can make running browser-based applications such as SketchUp Web more difficult with complex models.
At architecture school, you will use a whole host of different software: 
AutoCAD, Revit, Rhino, Blender, Photoshop, Illustrator, InDesign…and many more.
None of these applications are available to use on Chromebooks!
If you are going to architecture school, we recommend buying a Windows or a Mac laptop.
You can read more about choosing between Windows and Mac operating systems here.
I understand that many people cannot afford to buy a top of the range laptop. Still, it is possible to get your hands on a mid-spec Windows machine for around $600 – and this will let you run all of the software needed.
Can You Use SketchUp Viewer on a Chromebook?
It is possible to use SketchUp Viewer on a Chromebook by downloading the Android app through google play. 
Users have reported that the app runs very slowly, so using the browser-based version of SketchUp may be a better option for viewing 3D models.
How To Use Windows Apps On A Chromebook
Okay, so I previously said that this was not possible. However, there is an Android app called Crossover, which allows you to run Windows applications. As Chromebooks can run Android apps, it is possible to use Crossover on a Chromebook.
Crossover will cost you around $40 per year, but there is a free trial available.
You can download it from here: https://www.codeweavers.com/store#cxchromeos
This is a work-around suitable for people who already have a Chromebook and what to occasionally use Windows applications. 
Most Chromebooks have very low specifications, so they will not run 3D modeling or video editing software.
If you are deciding whether to buy a Chromebook or a Windows laptop to use Windows applications – buy a Windows laptop!