As iPads are becoming increasingly powerful, there are more options for architects and designers to utilize touch screen devices. But can you really use SketchUp on an iPad, and if so – is it worth trying?
It is technically possible to use SketchUp for Web on an iPad, but the functionality is poor as the software is not officially supported for iPad devices. An iPad is more suited to viewing and reviewing SketchUp models using software such as SketchUp Viewer.
In the following article, we will discuss how best to use SketchUp on your iPad and suggest some alternative software that could help you design on the move.
What Is SketchUp?
SketchUp is a 3D modeling software used primarily by architects and interior designers. It is often viewed as one of the easiest 3D modeling software to learn and is very user friendly. 
As the name suggests, SketchUp is a sketch based software primarily used for concept design. Some people use SketchUp for more detailed design, but it lacks some features in other architecture software such as Revit or Vectorworks.
There is a free version of SketchUp, which is used within your web browser. For more advanced users, there is SketchUp Shop and SketchUp Pro, which come with a vast array of additional features.
Below is a table that will allow you to decide which version is most suitable for your needs.
| Feature | SketchUp Free | SketchUp Shop | SketchUp Pro |
| --- | --- | --- | --- |
| Price | Free | $199/year | $299/year |
| Commercial Use | No | Yes | Yes |
| 2D Drawings | No | No | Yes |
| Web Version | Yes | Yes | Yes |
| Desktop Version | No | No | Yes |
| Custom Materials | No | Yes | Yes |
| Custom Styles | No | Yes | Yes |
| Custom Sketch Styles | No | No | Yes |
| Solid Tools | No | Yes | Yes |
| Dynamic Components | No | No | Yes |
| Animations | No | No | Yes |
| Offline Use | No | No | Yes |
| No Watermark | No | Yes | Yes |
How To Use SketchUp On An iPad
The desktop version of SketchUp is not available on iPad, so the only option is to use the browser-based version.
Head to https://www.sketchup.com/products/sketchup-for-web on your iPad browser. You will find that Chrome works better than Safari.
Create a free account, or log in to your existing account.
Click 'Create New' and choose which unit you want to work in.
That's it – you're ready to start modeling! When you save your file, it is linked to your account, so you can access it whenever you log in. The free version of SketchUp allows you to save 10GB of files – not bad!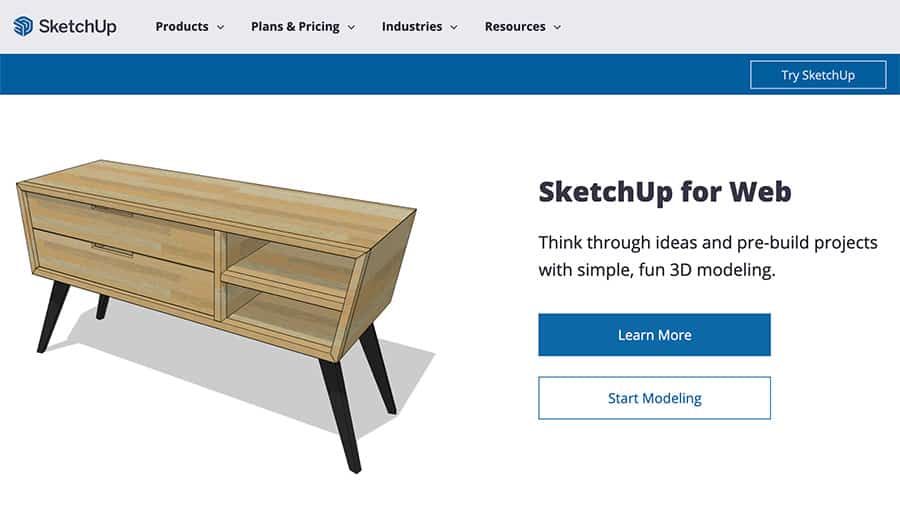 The Limitations of SketchUp On An iPad
Basic modeling using the touch screen is possible, but it is more difficult and less accurate than with a mouse and keyboard. Users who have connected a mouse and keyboard to their iPad frequently report glitches when using SketchUp.
Users' most common issues when using a Bluetooth mouse and keyboard are an inability to zoom using the scroll wheel, problems orbiting, and issues locating the cursor.
If you use the touch screen, it's incredibly difficult to be accurate. It's very frustrating, especially if you are used to using SketchUp on a desktop.
If you want to do any serious modeling, an iPad is not a good option. Using a desktop or a laptop PC is by far the best way to use SketchUp accurately and efficiently, and an iPad cannot replace this.
Alternatively, suppose you simply require to view a SketchUp file as opposed to building one. In that case, SketchUp Viewer may be a better option.
Which version of SketchUp can be used on iPad?
SketchUp is unique in the way it can be used on many different platforms. Unlike the majority of other software, SketchUp can be used within your web browser.
If you want to use SketchUp on your iPad, you can use SketchUp for Web within your web browser. All versions of SketchUp are available to use online, but SketchUp Shop and SketchUp Pro require a paid subscription.
Which Browser Is Best For SketchUp?
SketchUp recommends that Chrome 59+, Firefox 52+, or Microsoft Edge 84+ is used to run SketchUp for Web.
Although SketchUp for Web will work on Safari, it is likely to work much better with Chrome.
What is SketchUp Viewer?
SketchUp Viewer is a free app that allows users to view SketchUp files. The program works on all devices, but importantly there is a dedicated iPad app meaning the functionality is very good.
The capabilities of SketchUp Viewer are limited, and it does not allow any form of modeling. SketchUp Viewer is designed purely to analyze and review existing models.
SketchUp Viewer is made by Trimble (the same people who make SketchUp), so it works very well. To use SketchUp Viewer, you use the same login as you do to use SketchUp online or the 3D warehouse. This means all of your files will sync across the apps.
Due to this seamless integration, switching from 3D modeling on the desktop to viewing your model with an iPad on a building site is a piece of cake!
Features
Viewing Models
As the name suggests, the main feature of SketchUp viewer is to view 3D models. Inside the app, users can orbit around a model as well as view saved cameras. 
Layers within a model can be toggled on/off to allow parts of a model to be viewed individually. This feature also allows design iterations to be quickly reviewed.
Like in SketchUp, the display styles can be changed, and shadows can be turned on/off. 
If there is a section cut within the model you are viewing, this can be toggled on and off. But more excitingly, it is also possible to change the position of the section cut.
Measuring
It is also possible to measure models in SketchUp Viewer. As you are using your fingers to navigate and select, it can be quite tricky at times. 
Personally, I found it quite tricky to select the exact point I needed, especially when navigating in a complex and detailed model. With some practice, this does get easier. 
If you are working with a simple model, the measuring tool is much smoother.
Augmented Reality (Shop/Pro)
This feature allows you to use your device's built-in camera to display your model as if it were in front of you. 
This is especially useful if you visit a construction site and want to see what your building will look like when it is complete.
Alternatively, you can view the file at a smaller size on the table in front of you as if it were a scale model.
Unfortunately, this feature is only available if you are a SketchUp Shop or SketchUp Pro subscriber.
Walk Mode (Shop/Pro)
This is also a premium feature that is only available to SketchUp Shop or SketchUp Pro subscribers. 
Walk mode allows you to jump inside your model, using your camera to view your design from the inside at eye level. 
This is a beneficial feature as it can allow you or your client to have a much better feeling of what it will be like to stand in the completed building.
It can also help you as a designer to get a better feel for the space you are designing.
How To View Models In SketchUp Viewer
3D Warehouse
As a SketchUp user, you have access to a vast library of 3D models from 3D Warehouse. You can browse and view any model from the 3D warehouse with SketchUp Viewer.
Trimble Connect
All of the models that you create online using SketchUp for Web are available to access using Trimble Connect. 
As you use the same login for SketchUp Viewer, all of your 3D models will be updated automatically.
Dropbox
If you save files to Dropbox, you can access them directly within SketchUp Viewer without saving them to your device.
This is a useful feature for people who use SketchUp Pro as 3D models saved to the desktop will not be accessible using Trimble Connect.
Files On Device
Any files which you save to your device can be viewed using SketchUp viewer. This could be an attachment from an email or even a message on WhatsApp. All you need to do is save it to your device, and you are good to go.
Do I Need An Internet Connection To View Models With SketchUp Viewer?
No, an internet connection is not required. Any files which are saved to your device can be viewed offline using SketchUp viewer.
If you want to access models from 3D Warehouse or Trimble Connect, an internet connection is required.
SketchUp Alternatives for iPad
Shapr3D
https://apps.apple.com/us/app/shapr-3d-cad-modeling/id1091675654
Basic: Free Pro: $240/year
Shapr3D is available on iPad as well as iMac. The software is very intuitive and is a simple software to pick up. It is possible to create complex models with Shapr3D; however, it is most suited to design development and concept modeling.
Note that the functionality of this app is limited without an Apple Pencil.
Import Formats: X_T, STEP, IGES, STL, DWG (2D), DXF (2D), PNG, JPG, 2D PDF, TIFF, BMP, ICO, RAW, GIF
Export Formats: X_T, STEP, IGES, OBJ, STL, SHAPR, USDZ, DWG (2D), DXF (2D)
uMake 
Subscription: $95.99/year (14-day free trial) 
uMake is a 3D modeling software built specifically for touch screen devices. This means the functionality is far better than with SketchUp. 
As well as acting as a 3D modeling platform, you can use the sketching tool to use the app as a sketchbook. If you're happy with your design, you can then start to model it in 3D within the same workspace.
As with Shapr3D, the functionality of the app is very limited without an Apple Pencil.
Import Formats: SKP (SketchUp), IGES, STEP, OBJ, STL, SVG, PNG, JPG
Export Formats: IGES, STEP, OBJ, STL, PNG
Autodesk FormIt
https://apps.apple.com/us/app/autodesk-formit-360/id575282599
Basic: Free Pro: $2,965
Much like SketchUp, FormIt is a sketch-based 3D modeling software used for 3D conceptual design. FormIt is available to use as a desktop application and in a web-browser – but unlike SketchUp, there is a dedicated iPad app.
Import Formats (iPad Version): OBJ, STL, SAT
Export Formats: AXM (FormIt file), AXM, FBX, OBJ, STL, SAT, DAE, DXF
Final Thoughts
Using SketchUp on an iPad is possible, but it is not your best option for CAD modeling on a touchscreen device. 
At the end of the day, no 3D modeling software for iPad will offer you the same capability as a desktop or laptop computer. If you're serious about creating detailed 3D models, an iPad isn't your best option.